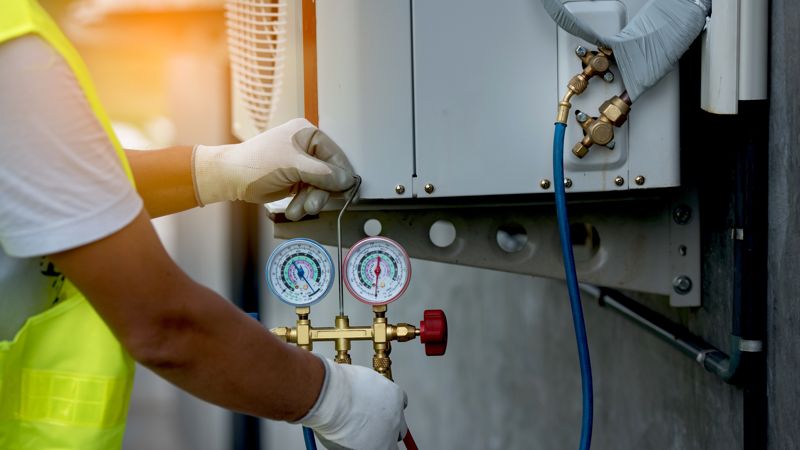 Commercial HVAC Services in New Braunfels
Industry-Leading HVAC Services in New Braunfels & Surrounding Areas
There is no denying that New Braunfels is a popular place for businesses to set up shop. It's in close proximity to Austin and San Antonio, which makes it a prime location for commercial properties. However, it can get extremely hot here in the summer, which makes it important to have a reliable commercial HVAC system in place. If your current system is failing and you need a replacement, call the team at My Favorite Service Company.
What Is Commercial HVAC?
The acronym HVAC stands for heating, ventilation, and air conditioning. Commercial HVAC systems are designed to provide comfort to people in a commercial setting, such as a business or school. These systems are typically larger and more complex than residential units.
Why Your Commercial HVAC System Needs to Be Replaced
While commercial HVAC systems may be more durable and last longer than residential units, they do eventually wear down and need to be replaced. When this happens, you may notice that your system is not working as efficiently as it once did.
If you are unsure if your system needs to be replaced, call our team at My Favorite Service Company. We can examine your unit and provide you with a free estimate.
How Much Does Commercial HVAC Replacement Cost?
The cost of replacing your commercial HVAC system depends on a number of factors, including the size of your unit and the brand you choose. The good news is that a new commercial HVAC system can save you money in the long run. The right unit will provide you with years of comfort and save you money on your energy bills.
If you need a new commercial HVAC system, call our team at (830) 215-8388 for a free estimate. We proudly serve New Braunfels, San Antonio, and the surrounding areas.
Schedule a Free Estimate
Contact My Favorite Service Company Today
Don't suffer through harsh seasons. Let us take care of your HVAC needs!
Why Hire My Favorite Service Company?
Our Family Owned Business Treats Our Customers Like Family Too
The New Braunfels community chooses My Favorite Service Company because we consistently provide honest, outstanding service with professionalism and punctuality. Our mission is to be our customers' favorite HVAC service provider by doing our jobs right the first time with a 100% satisfaction guarantee. No matter what service you need, we'll diagnose the problem and recommend the best solution for your needs, all at a price that fits your budget.
100% Free Quotes

We make it easy to get started with a completely free quote.

Same-Day Service

No matter when you need us, day or night, we're available to help 24/7.

Highly Trained Pros

We have years of experience and are dedicated to providing the best customer service.

Satisfaction Guarantee

You can be confident you'll be happy when our team drives away.

Unique Payment Options

Ask about our convenient financing and payment plan options.

Backed by a Warranty

Talk to our team about our heating and cooling services warranty!
Hear From Our Happy Customers
We Don't Settle for Anything Less for Our Customers
It's not just a name, it's a promise to have you saying, "My Favorite Service Company."
"Very professional and prompt."

My Favorite Service Company and their customers are lucky to have him since he is thorough and competent. He was also very personable.

- Edward Phillips

"Nobody better than these guys."

VERY professional and attentive to everything, big and small. It is very apparent they take great pride in making sure you are 100% happy. Noel and his team are absolutely TOP NOTCH and go way above and beyond.

- Kerstan Thomas

"My Favorite says it all and they held to that promise."

Can't say enough. These guys are fast efficient and clean! Complete system under my expected budget and easy payment plan.

- Kenny Powell

"Very professional, and actually cared for us like we were family."

Very professional and actually cared for us like we were family. Even though it took way longer than expected they still stuck with their original price that was quoted to me. I would highly recommend My Favorite Service Company.

- Dylan Grant

"Definitely will be recommending these guys to anyone who asked!"

Absolutely amazing service! Kevin showed up fast and was able to assess our problem quickly. He was even courteous enough to wait to see if everything was functioning up to the proper standard!

- Slade Combs

"I can honestly say that they are My Favorite!"

I cannot say enough about this company. We have used them multiple times for multiple services they respond very quickly, are professional and courteous, and most of all honest.

- Teena Dailey