AC Installation & Replacement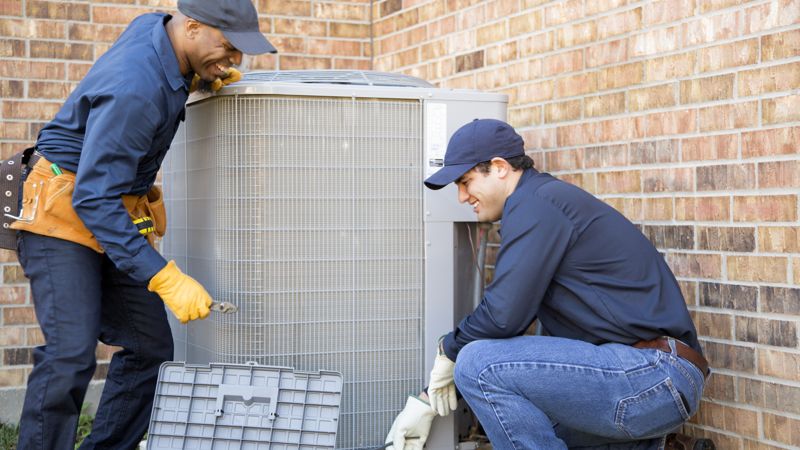 New Braunfels AC Replacement
Providing Expert Air Conditioning Installation Services to New Braunfels & Beyond
When your air conditioner breaks in the middle of the summer, your home can become dangerously hot. If you find yourself in this situation, you will want an AC replacement as soon as possible. My Favorite Service Company is New Braunfels' top choice for a reason. We will replace your air conditioner at a time that is convenient for you.
---
Contact us online or give us a call at (830) 215-8388 to schedule an appointment for a new AC replacement in New Braunfels & the surrounding areas today!
---
How Long Does an AC System Last?
Air conditioning systems generally have a lifespan spanning between 15 to 20 years, contingent upon factors such as the specific unit type and the level of upkeep it receives. Ensuring consistent maintenance is essential for prolonging the longevity of an air conditioner. Regular activities such as replacing filters and conducting yearly tune-ups play a pivotal role in minimizing the likelihood of expensive repairs or premature substitution.
When To Replace Your Air Conditioner
In many situations, it might make sense to repair your air conditioning unit when something breaks. Yet, there are other times that you simply need to replace the unit altogether. We realize that this is a huge cost. Several signs might indicate that you need an AC replacement You can look out for these, though we will also perform a diagnosis to confirm the need for replacement.
You may need to replace your air conditioner if:
It doesn't keep up with your cooling needs as well as before
It constantly runs without shutting off
Your energy bills have increased
Your AC unit stops working
You have had the air conditioner for over ten years
If you notice any of these indicators, call My Favorite Service Company about replacing the unit. We will come out and diagnose your air conditioner's problem for free. We will always be honest with you, even if that means we don't make a profit. Our technicians will tell you if we can repair your air conditioner or if it makes more sense to replace it altogether.
AC Replacement Process
Diagnose the Issue
When you first notice an issue with your AC unit, you can call My Favorite Service Company. Rather than replacing your unit right away, our technicians will closely look at your unit to make an official diagnosis. We will determine exactly what is wrong with your unit. This diagnosis will help us make a recommendation for you. We are always honest with our customers because we will treat you like family.
If we determine that a repair is best for your situation, we will let you know right away. Once you agree with our diagnosis, we will usually be able to repair it on the spot. We take pride in our repairs, and if you are not 100% satisfied, we'll refund you 100%, hassle-free.
If we determine that we need to replace your unit and you agree, we will move on to the next step in the process.
Recommend a Replacement
Next, we will recommend how to proceed based on your cooling needs, the type of air conditioner you had before, and your budget. Whether you want to upgrade to a central AC system or you want to try ductless air conditioners, we will help you find the best unit for your home. If you were happy with your old unit and want the latest version installed, we can do that too, based on availability.
Replacement
Once you have determined which air conditioner you want to buy, we will handle the installation. We will schedule an appointment at your convenience to install your new air conditioning unit.
By the end of the process, your AC replacement will have you cool and relaxed with as little hassle as possible.
Our Customers Are Our Priority
We want our customers to consider us their favorite service company. We work every day to live up to this standard that we have set for ourselves. Our experience in the air conditioning industry spans nearly two decades, so we have the skills and knowledge to provide quality work every time. We also want to remind customers that a proper AC system is great for overall home health, safety, and comfort.
What you get when you hire our team
We have earned the reputation for being the best HVAC company in the New Braunfels and San Antonio area. Here are a few more reasons to choose us for your cooling needs:
Highly trained technicians
Professional and polite team
Cutting-edge technology and techniques
Multiple payment options
Excellent customer service
Discounted annual maintenance plans
Commitment to 100% customer satisfaction
Top-of-the-line customer service is our number one priority. We are diligent about being on time for appointments and valuing our customers. Plus, we do everything possible to give our customers a hassle-free experience when working with us.
If you are considering an AC replacement in New Braunfels or the San Antonio area, contact My Favorite Service Company at (830) 215-8388. We will help you determine if replacing your unit is the best solution!
Schedule a Free Estimate
Contact My Favorite Service Company Today
Don't suffer through harsh seasons. Let us take care of your HVAC needs!
Why Hire My Favorite Service Company?
Our Family Owned Business Treats Our Customers Like Family Too
The New Braunfels community chooses My Favorite Service Company because we consistently provide honest, outstanding service with professionalism and punctuality. Our mission is to be our customers' favorite HVAC service provider by doing our jobs right the first time with a 100% satisfaction guarantee. No matter what service you need, we'll diagnose the problem and recommend the best solution for your needs, all at a price that fits your budget.
100% Free Quotes

We make it easy to get started with a completely free quote.

Same-Day Service

No matter when you need us, day or night, we're available to help 24/7.

Highly Trained Pros

We have years of experience and are dedicated to providing the best customer service.

Satisfaction Guarantee

You can be confident you'll be happy when our team drives away.

Unique Payment Options

Ask about our convenient financing and payment plan options.

Backed by a Warranty

Talk to our team about our heating and cooling services warranty!
Hear From Our Happy Customers
We Don't Settle for Anything Less for Our Customers
It's not just a name, it's a promise to have you saying, "My Favorite Service Company."
"Very professional and prompt."

My Favorite Service Company and their customers are lucky to have him since he is thorough and competent. He was also very personable.

- Edward Phillips

"Nobody better than these guys."

VERY professional and attentive to everything, big and small. It is very apparent they take great pride in making sure you are 100% happy. Noel and his team are absolutely TOP NOTCH and go way above and beyond.

- Kerstan Thomas

"My Favorite says it all and they held to that promise."

Can't say enough. These guys are fast efficient and clean! Complete system under my expected budget and easy payment plan.

- Kenny Powell

"Very professional, and actually cared for us like we were family."

Very professional and actually cared for us like we were family. Even though it took way longer than expected they still stuck with their original price that was quoted to me. I would highly recommend My Favorite Service Company.

- Dylan Grant

"Definitely will be recommending these guys to anyone who asked!"

Absolutely amazing service! Kevin showed up fast and was able to assess our problem quickly. He was even courteous enough to wait to see if everything was functioning up to the proper standard!

- Slade Combs

"I can honestly say that they are My Favorite!"

I cannot say enough about this company. We have used them multiple times for multiple services they respond very quickly, are professional and courteous, and most of all honest.

- Teena Dailey